Boo!
It's that time of year again! It's Fall which means Halloween and costume/fall sewing swaps!
This year it also brings the
Doll Wardrobe Blog's Inaugural Fashion Design Challenge Contest
. There are two outfits and three rounds for each outfit: Design, In Process, Complete.
The first outfit is done, and since I used it as a Costume Swap outfit, it shipped out last week. I'm looking forward to the recipient getting it and I hope they like it as much as I enjoyed making it. I'll post pictures once the contest entries are posted and/or the recipients posts pictures of it.
Last month my machine crashed. After talking to Brother Customer Service we determined it was probably the motherboard. I was sad that my machine was out of commission, but since it's prime sewing season for me, I did not have the time nor the patience to have it repaired. So, I sat it to the side and called my dear hubby while he was at work. We looked online and before the day was done, a new and improved machine was ordered. Since I was in the middle of a project and even though it would only be a couple of days before my new one arrived, my mom loaned me her sewing machine. I was able to get a piece done for my outfit while waiting for my new machine, and once my new machine arrived I was in heaven!
While playing with my new machine and trying out all of the new stitches, I also played with my new alphanumeric font. Check it out!
Oh, and speaking on costume swaps, here's the first of three swaps I received.
Firefly's Jayne and Doctor Who's TARDIS:
For reference, here's Jayne: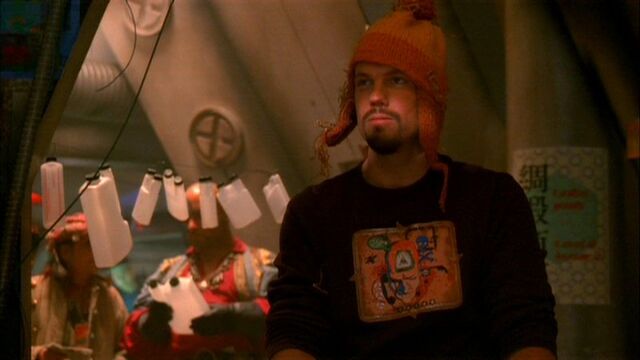 Next Monday I'll be shipping out the outfits for the second and third swaps. The one for the third swap is already done, but the second one is still on the sewing table. I need to hurry up and finish it this week since I have a Scrapbooking Crop for a Cure this weekend.
Sew, until next time....